The Pax Christi Group, which generally meets monthly, seeks to educate the community on matters related to peace and justice issues including war, torture, the environmental degradation of our world, and human rights and to bear witness to the hope of the gospel by bringing prayerful attention and courageous, loving resistance to those things that are disharmonious with God's Kin-dom. Outreach members reach out in service and support to the local and global community, encouraging our parish community in these efforts as well.


The photo below was taken at the Pax Christi State Assemply meeting on December 2nd, 2017 at Saint Susanna Parish in Dedham, MA
The locations and numbers on the wall of the manger reflect a small sampling of recent mass shootings in the US.
The quote "If only you knew the things that make for peace" is from Luke 19:42.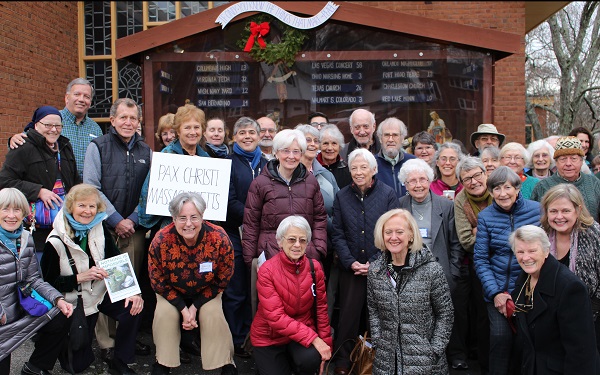 Our next meeting will take place on Saturday, December 2nd, 2017 at Saint Susanna Parish in Dedham, MA
Registration begins at 11:00 am and the day will conclude at 3:00 pm.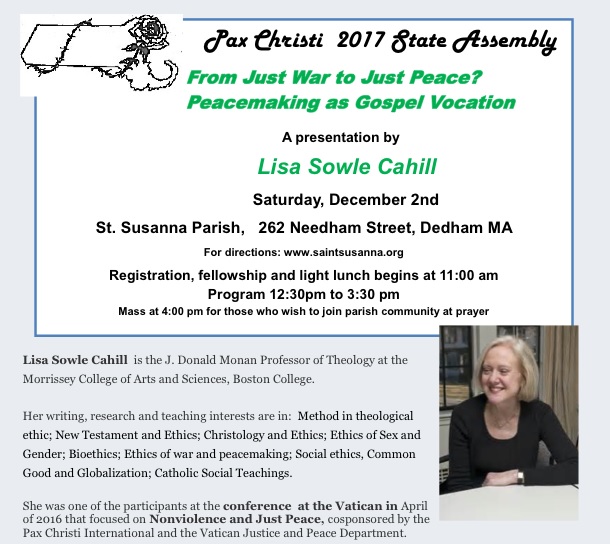 Please click here to produce the flyer and registration form.

Regular activities of the Pax Christi Committee at Saint Susanna include the following:
co-producing educational programs focused on peace and nonviolence with the Adult Faith Formation Commission.
working with the Youth Faith Formation Group to conduct programs that teach our youth about social justice issues.
hosting presentations and retreats in conjunction with Pax Christi Massachusetts.
outreach, education, and public witness related to nonviolence (e.g., assault weapon ban signature drive, no-war-toys campaign at Christmas, etc…).

Additional information is always available in the Peace Chapel.

All are welcome. Please contact Pat Ferrone at (781) 449-3890 or patferrone@rcn.com .

The Pax Christi Group at Saint Susanna is a chapter of Pax Christi Massachusetts: http://paxchristima.org . Pax Christi strives to create a world that reflects the Peace of Christ by exploring, articulating, and witnessing to the call of Christian nonviolence. This work begins in personal life and extends to communities of reflection and action to transform structures of society. Pax Christi USA rejects war, preparations for war, and every form of violence and domination. It advocates primacy of conscience, economic and social justice, and respect for creation.